Alec Finn (of Dé Dannan)
interviewed in 1991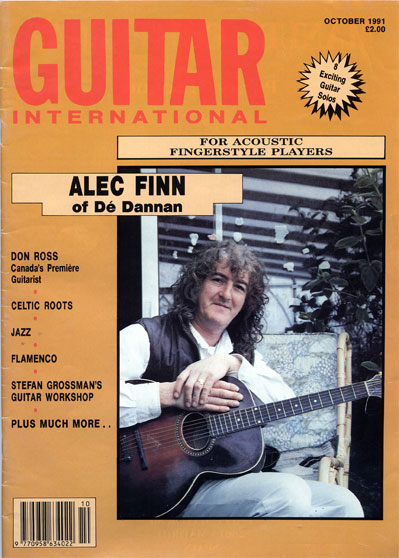 A discussion of who is the world's greatest classical guitarist (or pianist, or various other things) is always good for passing the time over a few beers. By contrast, there is little room for doubt as to who is the greatest Irish fiddler—by almost universal consensus it is Frankie Gavin1; and (with the demise of Planxty) Frankie's band, Dé Dannan, is probably the greatest Irish folk group.
Dé Dannan has had many personnel changes (and in particular, many singers) since it was formed in 1975, but the nucleus of the group has remained constant: Frankie, and bouzouki-player Alec Finn. I would venture that any group containing these two would be Dé Dannan, because it's one of those magical musical partnerships that are very rare (one of my favourite albums—of any kind—is the one just the two of them made for Shanachie in 1977), and the swinging rhythm they produce together is unmistakable.
Master accompanists are little-appreciated by the public, but other musicians know. For instance, Andy Irvine (of Planxty) says "Alec's amazing", and how right he is—what Alec produces from this three-course instrument is unbelievable (when I first heard him on record, I thought there was two of him).
By contrast, his guitar work with the group is deceptively simple although he is no slouch technically (as demonstrated by a couple of rags he played on my guitar after the interview). In fact, he says deprecatingly that he doesn't regard himself as a guitarist at all; but here I feel he underrates himself—good musicianship will be evident whatever the instrument the player chooses.
We caught Alec during a tour, at San Francisco's Great American Music Hall (one of my favourite venues, because of its good atmosphere and excellent sound quality). We spent the day of the concert together, and wound up jamming in the rehearsal room. Alec asked me to play Recuerdos de la Alhambra to Frankie, and expressed a desire to record it—an eclectic approach which has already led the band to do Hey Jude and The Arrival of the Queen of Sheba (in Galway), not to mention Eleanor Rigby (which appears, fascinatingly transformed into a double jig, on A Jacket of Batteries).

Alec, how did you come to be in Dé Dannan?
Well, when I moved back to Ireland I used to play the blues on the guitar, in Dublin. I went to listen to the music over there. I eventually moved on to Galway, which is in the West. At the time it wasn't a place where you could hear blues. It's all traditional music; and I got a present of a bouzouki from Greece (by mistake it was, actually—I asked a friend of mine to bring back one of those laoutos back from Crete. It's a type of Grecian lute, a crude form of the European lute—beautiful thing, bigger. And I was always fascinated by lutes: I thought lutes were beautiful things, still do).
He brought me back a bouzouki by mistake, which I had in Spiddal (in Galway). The only music you could get into if you wanted to play was the local music. So I started playing Irish music.
Did you know Johnny Moynihan, then?
Yes, I got into it about the same time—in the same year he got his, I would imagine, if not the year after. But we play completely different styles anyway.
I mention it because everybody credits him with introducing the bouzouki into Irish music.
Well, he did. He was the first person, I think him and Andy Irvine.
Andy had that Portuguese Guitar, didn't he?
He was playing a Gibson mandolin when I first saw him. The Portuguese Guitar was much later, I think.
So I started playing Irish music on the bouzouki, not the guitar. The only reason I'm playing guitar now with the group is because we always have a singer and it's necessary to accompany. A bouzouki is not really strong enough, it's a lightweight sound.
So I started playing guitar again which previously I'd only used as an accompanying instrument. But on the next album [½ Set in Harlem, now available], I'm going to do a couple of tracks playing solos on the guitar—slow solos, slow airs.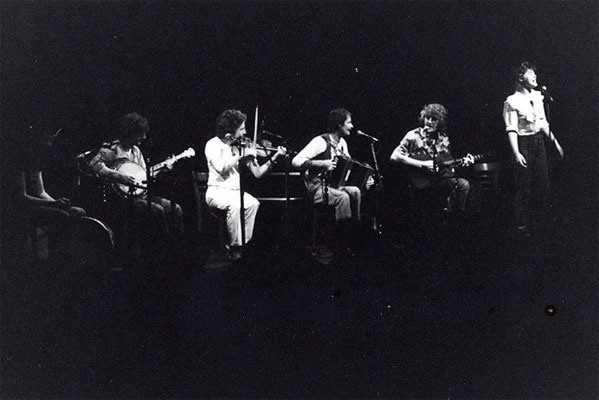 You don't really see yourself as a guitarist, do you?
Not really, no. But I love playing the guitar, I just wish I could play it better.
Accompanists do tend to be underrated by the general public, although not by other musicians. What do you think separates a good accompanist from a bad accompanist? What are you looking to achieve?
Well, I don't like the guitar actually played as an accompanying instrument behind Irish traditional music; because the way it's played by a lot of people, it puts down a definite pattern of rhythm, if it's chorded heavily. It makes the lead musician a prisoner of the rhythm. Whereas what I like to do with a bouzouki is let the rhythm be controlled by the lead player, and the bouzouki comes in behind it but doesn't actually control it. It's more difficult to do that on a guitar.
I haven't heard anyone play the guitar well behind jigs and reels, although lots have tried—maybe some people do but I just haven't heard it.
What about Micheál Ó Domhnaill?
I don't like it myself, no. I think he's a lovely player on the songs. Maybe it's my particular thing. I just don't like to hear it for some reason. It's used well in Irish songs by a lot of people, Paul Brady for instance.
There are guitarists I believe in Ireland now that are playing music by O'Carolan [the harper], which is easily transcribable to classical guitar. There are a couple of people doing that quite well.
It is semi-classical in style.
Yes, it's the nearest thing to Irish classical music, I think.
You recorded O'Carolan's Draught didn't you?
That's right. It's quite rare, you never really hear that played anywhere—you normally get O'Carolan's Concerto and all those things. But there's a lot more, of course. Somebody could make a very good album, playing that stuff on the guitar.
The Music
For this issue, Alec has kindly given us Carrickfergus, from A Jacket of Batteries, as the accompaniment should be within the range even of first-year students. This is one of the best-known and well-loved Irish folk-songs, and corresponds to English and Scottish versions known as Waly Waly, or The Water is Wide.
Eleanor Shanley also gave us the last verse, which is not on the recording, being discovered by the group only after this was completed.
I wish I was in Carrickfergus, only for nights in Ballygrand.
I would swim over the deepest ocean, the deepest ocean, my love to find.
But the sea is wide, and I cannot swim over; nor have I wings, so I can fly.
If I could find me a handsome boatman, to ferry me over, my love, and die…

In Kilkenny, it is reported, they have marble stone there as black as ink.
With gold and silver I would support him, but I'll sing no more, 'til I get a drink.
For I'm drunk today, and I'm seldom sober: a handsome rover, from town to town.
But I'm sick now, and my days are numbered. Come all you young men, and lay me down.

My childhood days bring back sweet reflections of happy days spent long ago.
My childhood friends and kind relations have all passed on now, like the drifting snow.
But I'll spend my days as an endless rover; soft is the grass, sure my bed is free.
Oh, to be back now in Carrickfergus, on that winding road down to the sea.
Carrickfergus PDF (staff notation + tab)
Notes
1Frankie's fans include Yehudi Menuhin, with whom he recently make a television programme.

Dé Dannan—Discography (1991)
Dé Dannan's instrumental line-up was, for a long time, fairly stable; but until the latest (Eleanor Shanley), the turnover in vocalists has been very high. I therefore list these with each album. Unfortunately, I haven't been able to run down an exhaustive list of all the labels and record numbers.
I tried to pick a "best" album to recommend, without success. Dolores Keane is considered by many to be Ireland's finest traditional singer, but all the vocalists have something unique to offer—even (or rather, especially) the inimitable Johnny Moynihan.
(However, I shall burst if I don't mention Frankie's rendition, on the debut album, of The Gold Ring. This magnificent seven-part jig is inspired by the piping of the late, renowned, Willie Clancy—doubly invaluable as Willie never recorded it.)
With hindsight, some may judge that the group's primary focus on the early discs was instrumental, with the singers as "add-ons". The later recordings are more integrated in this respect. However, the first few feature the terrific banjo playing of Charlie Piggott, who subsequently departed. Maybe the best idea is to start at either end of the timescale and work your way inwards.
Dé Dannan ('75) (34'47")
Vocals: Dolores Keane
The instrumental line-up when Dé Dannan first burst upon an astonished world was: Frankie Gavin (fiddle, flute and whistle); Alec Finn (bouzouki); Charlie Piggott (tenor banjo); Johnny "Ringo" McDonagh (bodhran and bones).
Selected Jigs, Reels and Songs ('77) (46'28")
Vocals: Johnny Moynihan
My personal Best of list contains more tracks from this album than any other.
The Mist Covered Mountain ('80) (39'51")
Vocals: Various traditional singers
Jackie Daly joined the group on accordion. The overall sound is incredible—listen to Mulvihill's!
The Star Spangled Molly ('81) (40'26")
Vocals: Maura O'Connell
The predominant theme of this one is the Irish-American music of the 1920's. Maura O'Connell sounds a little like an Irish Linda Ronstadt, with that ability to switch suddenly from very quiet to very powerful.
A Song for Ireland ('83) (39'18")
Vocals: Mary Black
This features a hugely entertaining version of The Arrival of the Queen of Sheba (in Galway), which Alec subsequently told me was an error of judgement: the folk radio stations wouldn't play it, because it "wasn't folk music", and the classical ones wouldn't because it "wasn't classical". Aarrgh!
Anthem ('85) (39"36')
Vocals: Dolores Keane
Nothing especially to single out; just impeccable, as always.
Ballroom ('87) (44'09")
Vocals: Dolores Keane
Caroline Lavelle joins the group on 'cello (and Martin O'Connor had by this time replaced Jackie on accordion). Dé Dannan's musical horizons were expanding rapidly, and here (among much else) they give the treatment to two Jewish Reels.
A Jacket of Batteries ('88) (44'57")
Vocals: Eleanor Shanley
The one with Carrickfergus, surely one of the most beautiful and best-loved of all folk songs. (Incidentally, the transcription in this issue is not from the CD, but from a recording Alec made for me. Like any good musician, he plays it differently every time). Adèle O'Dwyer, Aidan Coffey and Colm Murphy replace Caroline, Martin and Ringo respectively.
½ Set in Harlem ('91) (51'13")
Vocals: Eleanor Shanley
A ½ set being, of course, an Irish dance. There is a sole excursion into Gospel here (Operator), and I can't feel that the experiment was successful. Otherwise, superb as always.
The Best of Dé Dannan (anthology) (43'36")
As usual in the case of Best ofs, this should rather be entitled A Representative Selection of. It does, however, offer the chance to hear several different line-ups on one album.
The Best of the Irish Folk Festival (anthology) (62'35")
Features several tracks by Dé Dannan; at this point the group included Andy Irvine, who never appeared on the main albums. You also get Clannad, the Fureys, Liam O'Flynn, Mick Hanly, and many more. A first-rate disc.
Frankie Gavin & Alec Finn ('77) (31'45")
This is certainly the greatest record of Irish fiddle music I've ever heard. It may be argued that other players (such as the legendary Michael Coleman) were as good in their day, but none was privileged to play with such a superb accompanist as Alec Finn. An insert in the original LP version contained transcriptions of many of the tunes.
Frankie Goes to Town ('89) (53'37")
I have to admit that a lot of this album is not my cup of tea; the reason being that it features piano accompaniment, and I feel about this as Alec feels about guitar. Piano is is certainly perfectly traditional, and Charlie Lennon is a well-respected musician, composer of many beautiful tunes. But if we must have keyboards, then I would rather have harpsichord (e.g. as exemplified by Tríona Ní Dhomhnaill of the Bothy Band). Piano always seems to me to clomp.
However, Frankie obviously doesn't feel this way, and the reader may not either. Even for me, there are two tracks with just Alec which alone are worth the price of the disc.
Sail Óg Rua ('84) (36'06")
Broken-Hearted I'll Wander ('81) (44'45")
Farewell to Eirinn ('81) (38'07")
by Dolores Keane & John Faulkner
These albums show Dolores perhaps to even better advantage than the Dé Dannan ones. The voices of her and her husband (also a bouzouki player) are so perfectly suited, and so together, it's breathtaking. Other first-rate musicians contribute to what must be among the best albums of the decade.
General Humbert II ('83) (37'23")
Hard to find, perhaps, but worth the effort [and, as of 2020, on CD]). A fine group, featuring Mary Black in pre-Dé Dannan days. I haven't yet been able to run down the group's first album.